Advertising Options
Advertisng Wales equips you as an advertiser with 5 different advertising opportunities to showcase and promote your company.
Advertising options / zones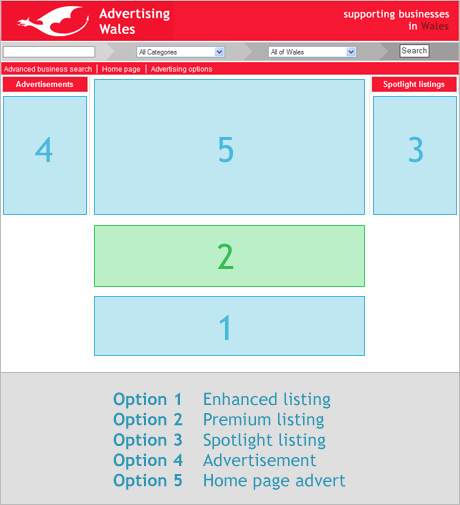 Option 1 - Enhanced listing
When you purchase your Enhanced Listing, you will receive a listing in a category of your choice, and within a location suited to your business activity. Listings will include your company logo or graphic of your choice (maximum: 450px wide x 300px high).
In addition, you can display: Your company name, address, telephone number, 6 relevant keywords, details about your business, a personal e-mail form, a website link, and an integrated interactive Google map
Option 2 - Premium Listing
Premium listings include all of the superb features available within the Enhanced Listing, with the additional benefit of choosing the 'top spot' within your chosen category and location. Premium listings are dressed in a different colour to differentiate between Premium and Enhanced listing types.
Option 3 - Spotlight listings
Companies who advertise with Advertising Wales have the added opportunity to increase business awareness through the Spotlight listing feature which will display your company details in a column to the right of business listings for your chosen category and location. The prominence of Spotlight listings are highly effective forms of advertising and prove to be extremely cost effective.
Option 4 - Advertisements
Located to the left of business listings, Advertisements are the first image users see when scanning through the web page and provide a fantastic opportunity to turn the heads of prospective buyers. Displayed in full-colour, Advertisements achieve a swift Return On Investment, and a healthy stream of new business revenue through their glossy, confident position on the web page. If you want your business to stand out in the crowd, place your advertisement now to see instant results!
Maximum advert size: 144px wide x 205px high
Option 5 - Home Page Advert
A massive advert of 460px wide x 300px high is available for businesses to shout their name from the rooftops!!
This advertising space is situated in a prime location and will be the major focal point of all users when visiting the website. Undoubtedly the finest location for any advertising campaign, advertisers can expect great interest in their business from capitalising on the opportunity to advertise here.
General Notes
* Spotlight Listings and Advertisements can be 'turned on' at any time to tie in with external marketing activities, or during times where business activity is predictably quieter.
** Spotlight Listings and Advertisements are also available for display on the homepage of the website to attract all users.
*** If chosen to appear on the homepage Spotlight Listings and Advertisements will also be displayed on the advanced search pages, and all other website pages not related to business listings to further promote you business.
**** To avoid disappointment, it is recommended that you secure your premium listing within your category and location as early as possible as only a limited number are available. This restriction also applies to the Front Page advert which is in popular demand.
Productions of Artwork or Editorial
If you require artwork production for your advertisements, or editorial to accompany your business listing, please contact us to discuss your needs with one of our account managers.
Advertising Rate Card
If you are interested in receiving new business opportunities and would like to discuss all advertising options available, or if you would like a copy of our Advertising Rate Card, please click the link below to contact us
Advertising Wales - Search Engine Integration
In addition to the great value advertising you receive as an advertiser, Advertising Wales has ensured all business listings are tightly integrated with the top search engines to generate additional targeted traffic from the likes of Google, MSN and Yahoo.
Advertising Wales actively markets its website and ensures search engine optimisation techniques are employed alongside e-marketing campaigns to generate quality buyer traffic.
supporting businesses in Wales